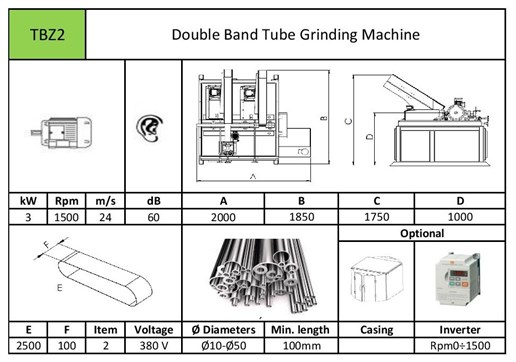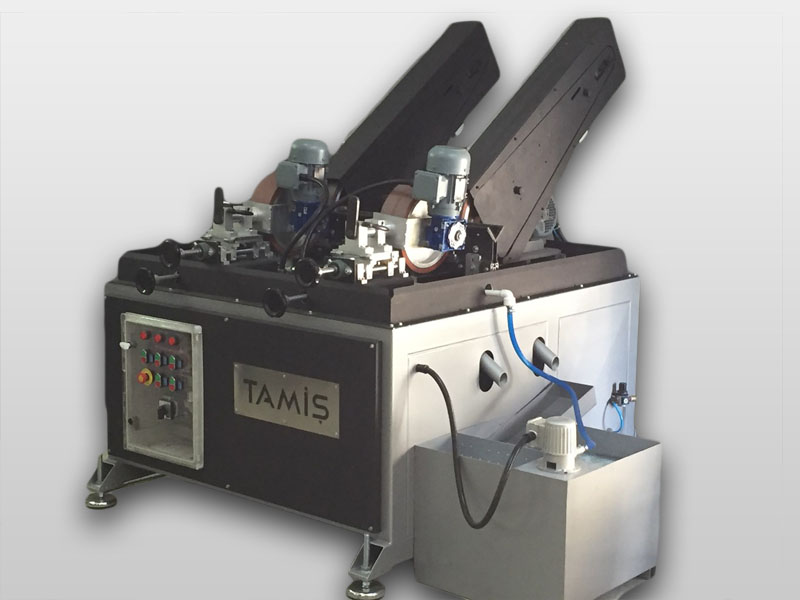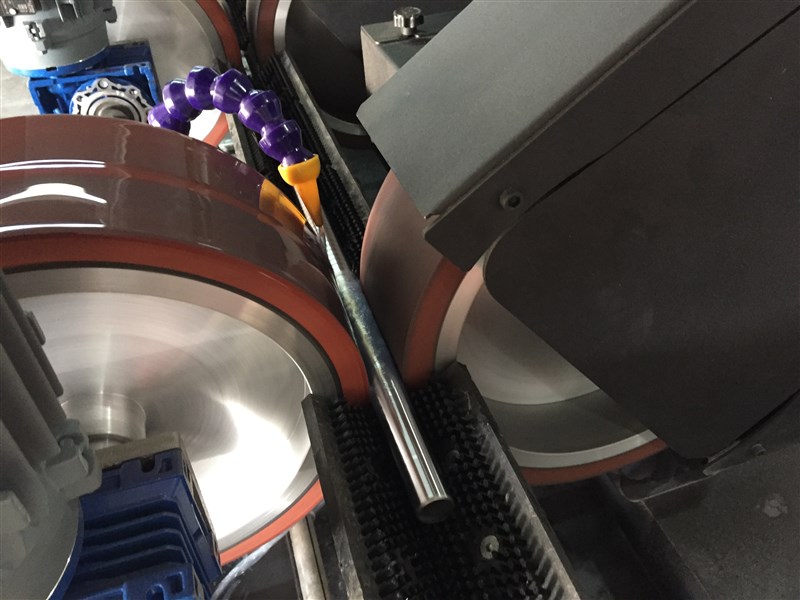 Technical Specifications
| | | |
| --- | --- | --- |
| Width | : | 2000 mm |
| Height | : | 1850 mm |
| Depth | : | 1750 mm |
| Sandpaper Sizes | : | 2000x100mm |
| Motor Power | : | 3 kW |
| Motor Speed | : | 1500 RPM |
| Voltage | : | 380 V |
| Work Piece | : | Ø10 - Ø50 mm |
Optional
| | | |
| --- | --- | --- |
| Inverter(Speed Controller) | : | 3000RPM |
| Safety Cover | : | Available |
Tube Grinding Machine TBZ2 | Tamis Machinery
TBZ-2 is a machine produced for pipe sanding consisting of two belt sanding units.
Our machines are designed to carry out long-term industrial operations, suitable for long working processes.
TBZ2 can be revised according to the desired diameters in line with customer needs, conveyors can be made according to dimensions and lengths. Manual feeding is done in TBZ-2, but automatic feeder and unloader can be added optionally. (For full automatic version, see TBZ 4.)
These long-lasting sanding and polishing machines can process a variety of materials, including soft metal, plastic, wood, glass and hard steel.
If a better surface is desired, it is recommended to have as many stations as possible additions and subtractions can be made in the design according to the customer's request. Many changes can be made such as the number of stations, exterior protection, color, automation, etc.
Optional inverter (speed controller) can be added.
Optionally, a waste boron oil tank can be added, sawdust collector magnetic separators can be added, or filtration cloths can be added to the design upon request.
Carrier conveyors can be built inside and outside the machine, as well as a protective covering to prevent items such as clothes from being attached to rotating parts within the scope of occupational safety.
With its special manufacture, Tamis Machine helps you to get the perfect finish and brightness without compromising quality for cost.
Applications
In sectors such as casting, aerospace, shock absorber, furniture, decoration manufacturing, sanding of metal and wooden surfaces, deburring, piping, metal cutting, metal cleaning and polishing, wood sanding, wood and knife sharpening, blacksmithing, repairing, etc. It takes its place in almost every manufacturing sector, from big factories to smaller.
FAQ Tube Grinding Machine TBZ2
You can order by sending an e-mail to info@tamismakine.com or sales@tamismakine.com or by contacting us at +90232 223 782 56.
Yes, only the working area of our machine is open. Optional safety covering is available.
Tamiş machine provides you spare parts.