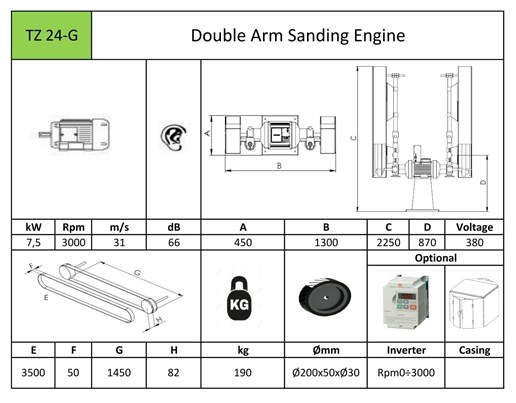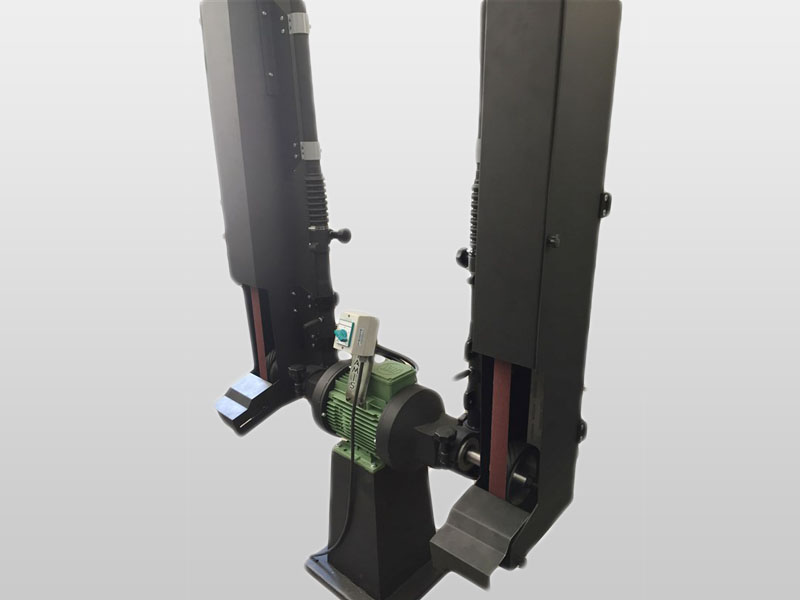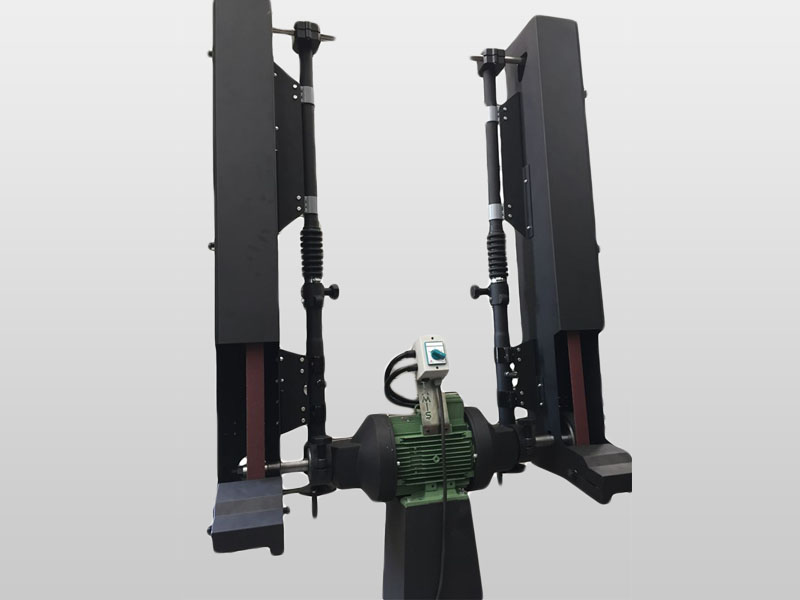 Technicial Specifications
| | | |
| --- | --- | --- |
| Width | : | 1300 mm |
| Height | : | 2250 mm |
| Depth | : | 450 mm |
| Sanding Band Size | : | 3500x50 mm |
| Motor Power | : | 10 HP |
| Motor Speed | : | 3000 RPM |
| Voltage | : | 380 V |
| Weight | : | 190 KG |
| Pulley Diameter | : | Ø200x50 mm |
| Frequency | : | 50 HZ |
Optional
About Double Armed Sanding Engine TZ 24-G
TZ 24-G is a belt-shaped machine with two belt sanding units and a long, tensile-resistant abrasive attached to pulleys. Belt sander provides multi-axis machining opportunities in sanding, deburring and surface finishing operations of irregularly shaped, curved and profiled elements.
In belt sanding machines, the longer the belt, the longer the operating life, thus minimizing the wear of the sander and prolonging the working life is aimed. The interchangeability of the sanders allows the processing of materials from different materials.
It has a powerful engine and it is resistant to a lot of load and is suitable for working 24 hours thanks to its powerful engine. Moreover, two people can easily work at the same time.
Their designs are ergonomic and user-friendly.Thanks to these designs, it allows you to easily perform your operations by consuming minimum physical power.
Within the scope of Occupational Safety, the areas outside the working area were covered.
It is aimed to minimize the attachment of items such as clothes and gloves to the rotating parts and possible work accidents.
Double Armed Sanding Machine TZ 24-G Production
TZ 24-G, consists of two vertical and flat belt sanding units. Since it can reach large sanding sizes, its working life is longer. Also, the fact that the sander is replaceable gives it the ability to process different materials.
Since it has a powerful engine, two people can work at the same time. It is load resistant, so parts that require strong pressure in their operations can be easily processed.
The belt sanding unit allows the processing of shapeless and curved materials.Within the scope of work safety, covering was made in the sections outside the working areas. It is planned to minimize possible work accidents with this covering.
Double Arm Sanding Motor TZ 24-G Usage Areas
In sectors such as casting, aerospace, shock absorber, furniture, decoration manufacturing, sanding of metal and wooden surfaces, deburring, piping, metal cutting, metal cleaning and polishing, wood sanding, wood and knife sharpening, blacksmithing, repairing, etc. It takes its place in almost every manufacturing sector, from big factories to smaller.
FAQ Double Armed Sanding Engine TZ24-G
You can order by sending an e-mail to info@tamismakine.com or sales@tamismakine.com or by contacting us at +90 232 223 782 56.
You can only order this product from Turkey. Our product can be sent to any country from Turkey.