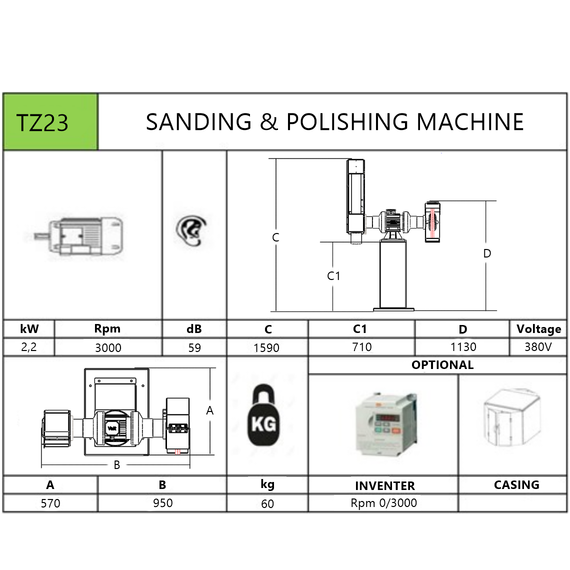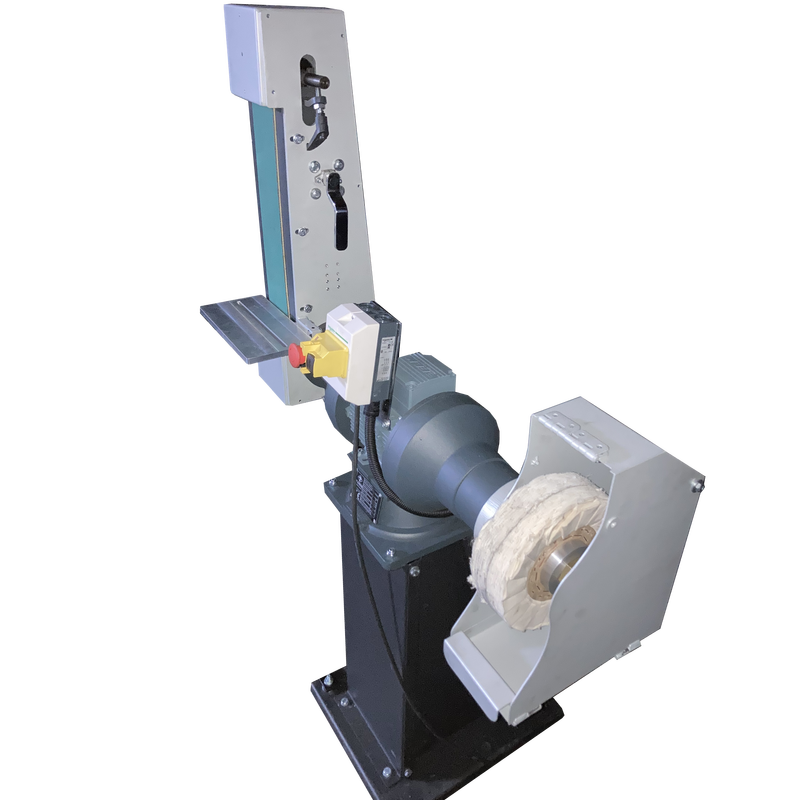 Improve your production process with the Sanding and Polishing Machine TZ23 from Tamis Makine!
Technicial Specifications
| | | |
| --- | --- | --- |
| Width | : | 1590 mm |
| Height | : | 950 mm |
| Depth | : | 570 mm |
| Sanding Band Size | : | 1500x100 mm |
| Motor Power | : | 3 HP |
| Motor Speed | : | 3000 RPM |
| Voltage | : | 380 V |
| Weight | : | 96 KG |
Optional
| | | |
| --- | --- | --- |
| Inverter (Speed Controller) | : | 0/3000RPM |
This industrial-level machine was designed for efficient metal and wood surface sanding and grinding. Its powerful motor is capable of rapidly and effectively sanding, polishing and buffing even the toughest surfaces, while its adjustable height ensures you get the perfect finish on any material. Plus, you can trust in the superior craftsmanship of our experienced team – every machine is manufactured with rigorous safety tests and quality assurance measures in place to ensure you receive a reliable, durable product.
Get the most out of your production process with the Sanding and Polishing Machine TZ23 – the ultimate tool for top quality finishes!
The TZ 23 consists of a vertical belt sanding unit and a polishing unit. Its powerful motor allows two people to work at the same time. Also, processes such as brushing and polishing that require strong pressure can be carried out easily.
The fact that only the working areas of the machine are open provides work safety to the user and the long sanding band is effective in prolonging the working life. Thanks to the special rack system, tensioning and adjustment is easy.

Belt Sanding unit
It is suitable for high precision squaring or straightening operations in the vertical belt sanding unit, and for corner breaking, deburring, or graduated machining (30, 45, 90) as desired thanks to the angle adjustable stop. Straight and vertical operations can be easily carried out on the vertical sanding unit supported by the table.

Polishing Unit
It is appropriate to attach a polishing felt or brush to this part. All kinds of materials are polished with different types and sizes of polishing felts applied with special liquid. Especially brushing and polishing of any metal material can be done in these polishing machines. At the same time, the fact that only the working area is open provides convenience to the user in terms of work safety.
Is it safe to use Sanding and Polishing Machine?
During the design process of this machine, attention was paid to occupational safety. Only the working area of ​​the belt sanding and polishing parts is open, it is user-friendly against situations such as grabbing clothes.
Sanding and Polishing Machine TZ23 Usage Areas
In sectors such as casting, aerospace,lighting, shock absorber, furniture, decoration manufacturing, sanding of metal and wooden surfaces, deburring, piping, metal cutting, metal cleaning and polishing, wood sanding, wood and knife sharpening, blacksmithing, repairing, etc. It takes its place in almost every manufacturing sector, from big factories to smaller.
FAQ Sanding and Polishing Machine TZ23
You can only order this product from Turkey. Our product can be sent to any country from Turkey.
Yes,our company provides spare parts such as contact disc pivot, contact disc pivotless,Aluminum relay,clamp lever,shift fork,tube sheet,shunt,tube,contact disc relay shaft,arm backside,tie nut.