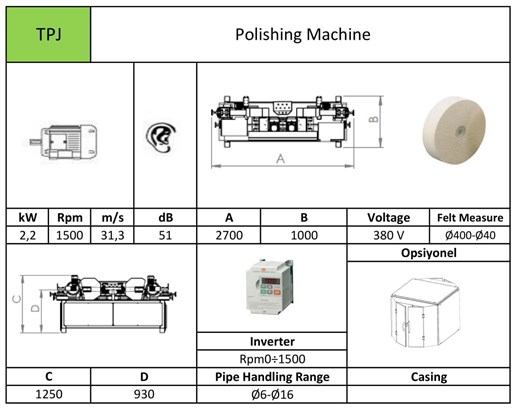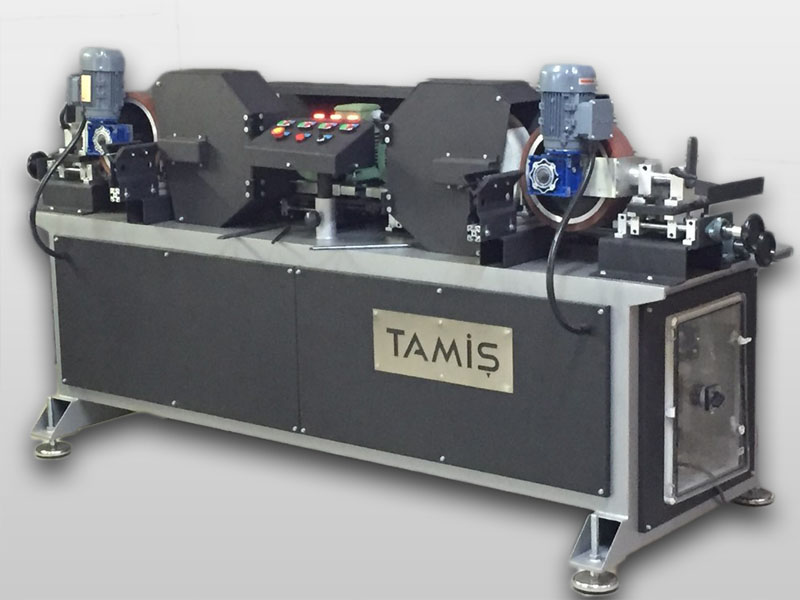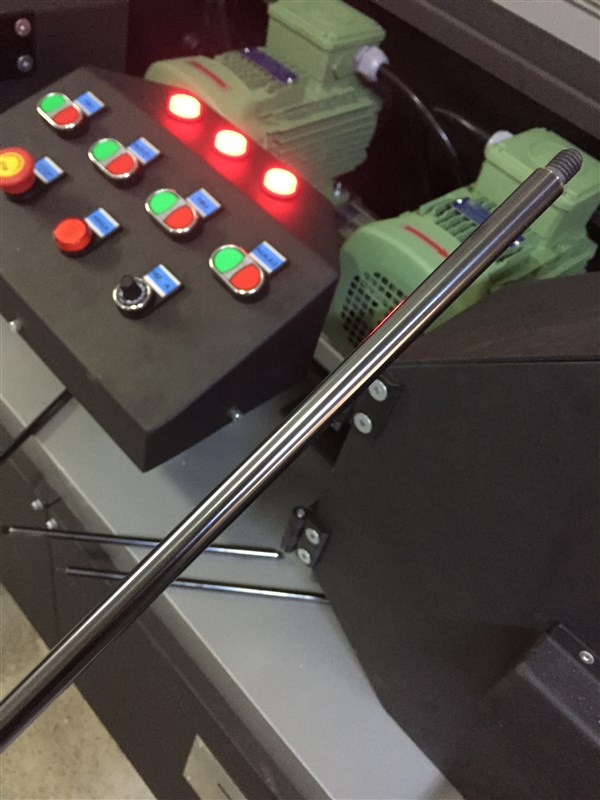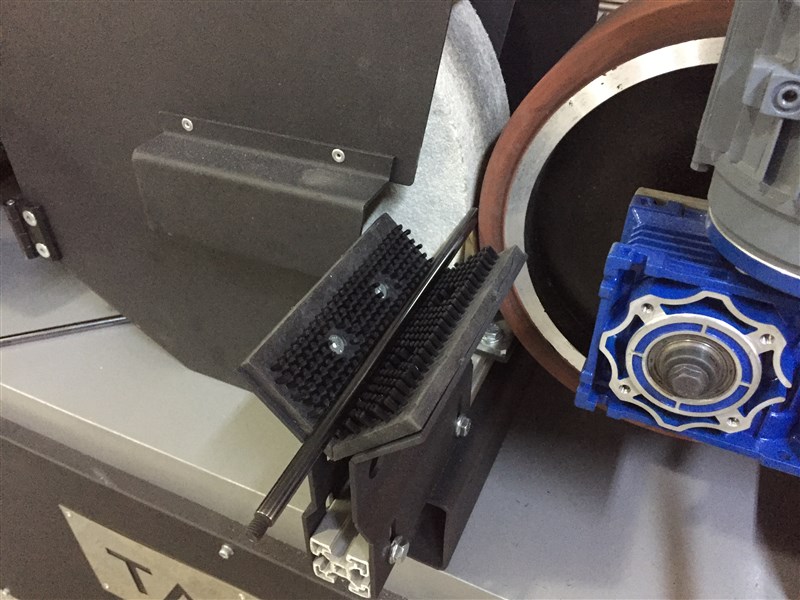 Technical Specifications
| | | |
| --- | --- | --- |
| Width | : | 2700 mm |
| Height | : | 1250 mm |
| Depth | : | 2500 mm |
| Sanding Disc. Dia | : | Ø400xØ40 mm |
| Work Piece Sizes | : | Ø 6-Ø 16 mm |
| Motor Power | : | 2,2 KW |
| Motor Speed | : | 1500 RPM |
| Voltage | : | 380 |
| Cutting Speed | : | 31,4 m/s |
Optional
| | | |
| --- | --- | --- |
| Inverter(Speed Controller) | : | 0%3000RPM |
| Safety Cover | : | Available |
Polishing Machine-TPJ2 ( Shaft Polishing)
It takes its place in various industries in processes such as grinding and polishing to achieve the required level of surface roughness. (coating removal, surface roughness, gloss, transparency, etc.). From aerospace to optics, plastics to wood, and especially in the metal fabrication industries, the TPJ2 with a non-woven abrasive wheel (Fibranex) can be used in all areas.
Our machine is used in these industrial processes to smooth the surface of the materials, shape the surface, remove the burr on the surface and get rid of the rust.
It has a high performance on surfaces where gloss, consistent texture and maximum surface smoothness are required. The surface result obtained on the first part and the last part machined is the same.
In line with customer needs, TPJ2 can be revised according to desired diameters, conveyors can be made according to dimensions and lengths. There is a manual feeder and unloader in TPJ2.
If a better surface is desired, it is recommended to have as many stations as possible, however, additions and subtractions can be made in the design according to the customer's request. Many changes can be made such as the number of stations, exterior protection, color, automation, etc.
Optionally, an inverter (speed control device) can be added. Carrier conveyors can be built inside and outside the machine, as well as a protective covering to prevent clothes, etc., from getting stuck on rotating parts within the scope of work safety.
With its special production, Tamiş Makine helps you to reach the ideal finish and gloss without sacrificing quality for cost.
Application
It takes its place in almost every manufacturing sector, from large manufacturers to small manufacturers, in sectors such as shock absorber, casting industry, aviation, furniture, decoration production, where the surface quality is required very sensitively and industrially bright results are required.
FAQ Polishing Machine-TPJ2 (Gaz Springs Shaft Polishing)