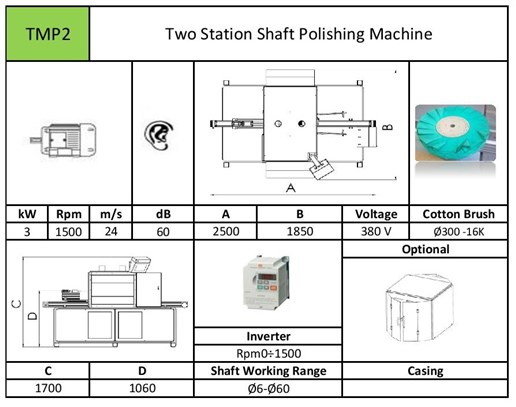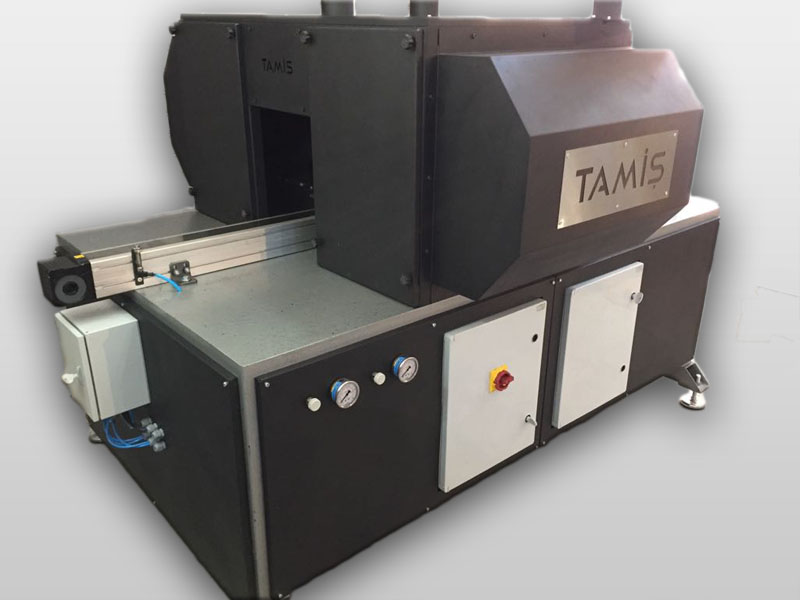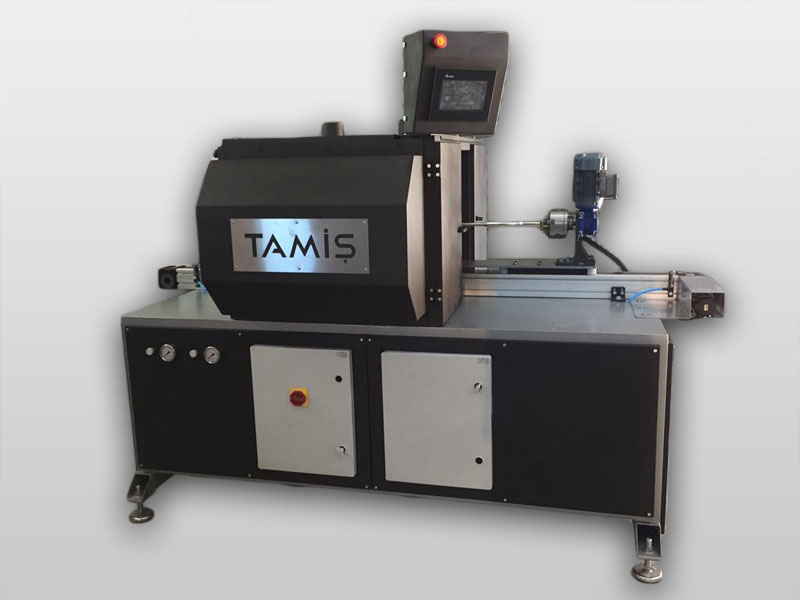 TMP2 - Technical Specifications
| | |
| --- | --- |
| Width | 2500 mm |
| Height | 1700 mm |
| Depth | 1850 mm |
| Cotton Brush Dia | Ø300 * 16K |
| Motor Power | 3 kW |
| Motor Speed | 1500 RPM |
| Voltage | 380 V |
| Shaft Working Range | Ø 6 - Ø 60mm |
Optional
| | |
| --- | --- |
| Inverter (Speed Controller) | RPM%15000 |
| Safety Cover | Var |
It finds its place in various industries in processes such as grinding and polishing to achieve the required level of surface roughness (coating removal, surface roughness, gloss, transparency, etc.). It can be used in industries from aerospace to optics, from plastics to wood and especially in metal manufacturing industries.
Our machine is used in these industrial processes to smooth the surface of materials, shape the surface, remove chips on the surface and get rid of rust.
It has a high performance on surfaces where brightness, consistent texture and maximum surface smoothness are required. The surface result is the same on the first and the last piece machined.
If a better finish is desired, it is recommended to have more stations, however, additions and subtractions can be made in the design according to customer request. The number of stations, external protection, color, automation, etc. can be changed in many ways.
Optional inverter (speed control device) can be added. Carrier conveyors can be made inside and outside the machine, as well as protection cladding can be made to prevent items such as clothes etc. from getting caught in rotating parts within the scope of occupational safety.
Tamiş Makine helps you reach the ideal finish and brightness without sacrificing quality for cost with its customized production.
Areas of Use
It takes its place in almost every manufacturing sector from large manufacturing plants to small manufacturing plants, especially in sectors such as shock absorbers, casting industry, aviation, furniture, decoration manufacturing, in processes where surface quality is required very precisely and industrial bright results are required.
FAQ Two Station Shaft Polishing Machine TMP2
You can order by sending an e-mail to info@tamismakine.com or sales@tamismakine.com or by contacting us at +90 232 223 782 56.
Yes, only the working area of our machine is open. Optional safety covering is available.
Most components are provided by tamis.